We've talked about kitchen and bathroom remodels before, and they are easily the most popular rooms to be featured on renovation blogs.
But there's another room that's equally as key to your daily life: the living room. This room will provide the backdrop to a lot of memories, especially as a hosting center for gatherings of families and friends.
If you're planning your custom luxury home and need an extra inspiration boost, here are five living room redesigns showing a range of styles and personalities.
1. Brighten it Up
This remodel that Calabasas Remodel knocked out for some clients paired modern and bright with comfort. The natural wooden beams add a slightly rustic touch to a space lit up by double doors.
Navy and brown furniture ties in well to the wood, creating comfort while leaving the color palette neutral, also referencing beachside themes found elsewhere in the home.
Old shelves were replaced with a modernized entertainment center, and the fireplace was bricked out and painted white to make it a more interesting centerpiece for the room.
Accent With Color
One of your best tools in any home decor project is always color. DIY blogger Cassity has clearly mastered that concept, choosing to bring out the best in her living room with bright yellow and blue accents.
The process proves that sometimes the difference is in the details. An area rug and repainted chair both go a long way towards giving this space personality.
Prints and Pastel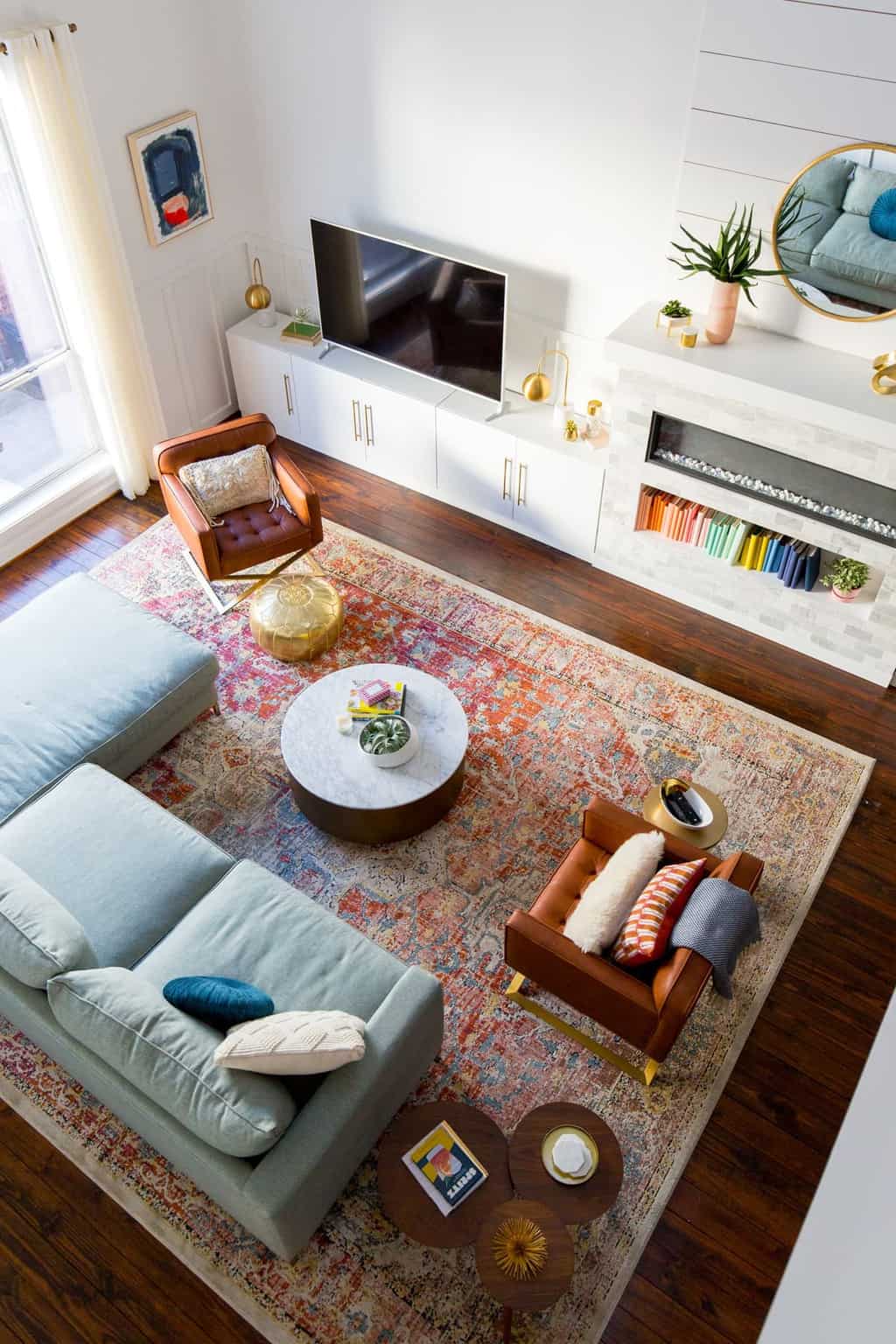 Blogger Ashley Rose's living room redesign shows the power of using a lighter hand. From the patterned marble design laid over the fireplace to the variegated area rug to the tasteful throw pillows, this room incorporates a variety of colors and patterns. In leaning on less assertive colors and patterns, the variety can coexist in harmony.
The natural wood flooring in the room grounds the light colors, creating contrast with the sheer curtains and white walls. A pastel sectional couch finishes off the room to look instantly inviting.
A Clean Slate
Few trends have been more pervasive in the past few years of home decorating than the all white theme. Lifestyle blogger Chriselle used the massive amounts of natural light falling through her picture window to build a light and airy space. White walls and furniture are complemented with a three sided fireplace and hints of honey brown and beige in the floor and cabinets.
Break Up the Space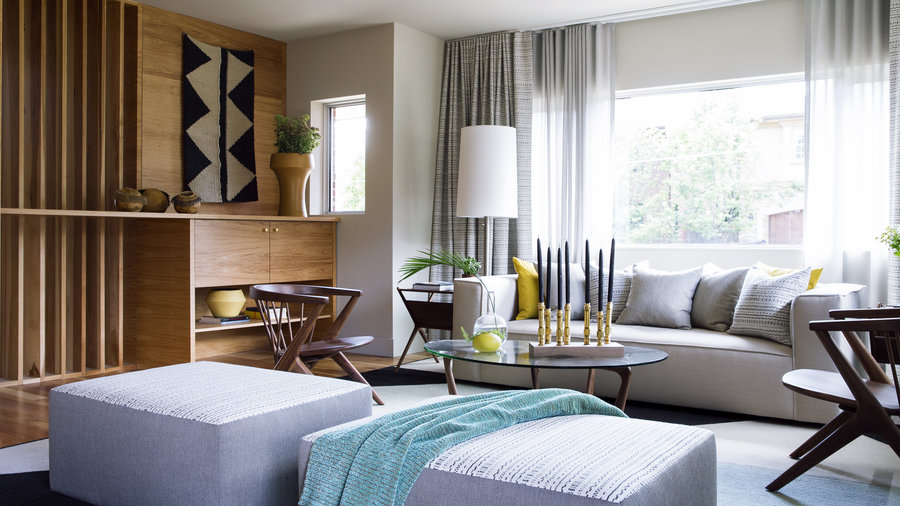 This remodeled ranch house featured on Sunset shows off a classic design concept at play: using furniture to partition off the room. A custom armoire/media center delineates the living room from the kitchen here while also providing functionality on both sides.
Because this 1950s home featured a very open floor plan, even the sofa and chairs are intentionally spaced to keep the open feeling while also creating visual and functional distinctions.
Are you ready to dress your own living room up? Whether you're building it from scratch or just want to remodel an outdated space, our team is ready to help!